Everyone knows Jared loves his dogs. From what I've heard, everyone who meets those dogs loves them too! Jared tweeted last night that Harley lost his battle with cancer. I remember Jared talking once about how when he needed to cry on set, he would think about something happening to his dogs. It's just heartbreaking to me.

At the 2008 Dallas con, I talked to Jared briefly about his dogs. It remains one of my all-time fave Jared moments. Here it is again, just C&Ped from the original post*:


Jared did autographs after the panel and I had him sign a picture of him with his dogs.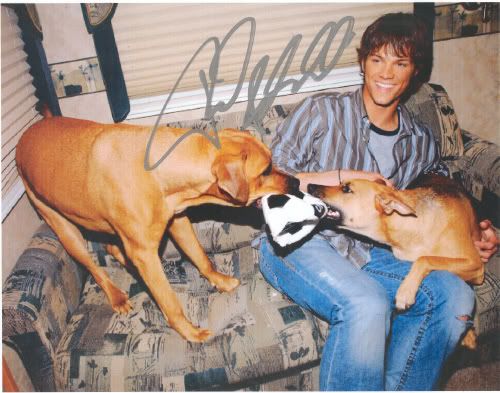 I asked him if Harley's knee surgery was for a torn ACL. He first said yes but then corrected himself that ACL was the wrong term. I threw in that my dog Val has had ACL surgery done on both her back knees. He began to explain dog anatomy to me (and was quite knowledgeable about it too!) and the words anterior, posterior, cruciate and, uhm, others were used. I think my eyes glazed a little and he laughed and stopped.

I asked how Harley was recovering and he said fine but sometimes if they went on a long run together then Harley would limp for about a day after. He was quick to add that Harley was FINE after that and that it was nothing to worry about.

He gestured to the picture and said that Harley had horse legs and that he weighed 105 pounds. And was kinda dumb. Big and dumb. He sort of laughed and was like "there's just no other way to say it!"

He said he missed the dogs so much and that he hadn't seen them in two weeks. I asked where they were and he said with his parents in San Antonio. I asked when he'd get to see the dogs next and his face lit up as he said "Tuesday!" I love that he knew the exact date. I thanked him for his time and moved on.

*June 8, 2008