Hiya Flist! I have a lot to talk with you guys about this morning!
I keep meaning to update about this awesome story I read in People magazine a few weeks ago. It's about the town of El Dorado, Arkansas. It's a small town, poor, mostly dying out, really. It's only claim-to-fame was that Murphy Oil Corp. (a Fortune 500 company) was based there. The CEO and president looked around at the dying town and wanted to make a difference. He knew he'd have to do something really bold. So. He created the El Dorado Promise, which promised that regardless of need or GPA, Murphy Oil would pay the college tuition of every student in town, for the next 20 years. He set up a $50 million endowment and announced it to the local high school in January.

It's revolutionary, it's exciting, it's one company changing the lives of generations. I seriously well up in tears every time I think about it. The cover picture on the article was all the high school seniors, in caps and gowns, holding up their scholarship agreements. It's just incredible and amazing.


I think by now most everyone has seen the article about Jared speaking at the Austin UIL meet. Sexy is smart. But also, a mom being proud of her son like that? *clutches heart* Family is sexiest of all.

I also really, really love this quote: I'll simply state the facts. He is tall. He is lean and muscular, and he is tanned.

Yes, yes he is. MMMMM.


jellicle asked me to re-upload some Indigo Girls stuff and it is here (a mix of IG songs I love) and here (the Rites of Passage CD).


BIG BANG POSTING STARTS TODAY. I am beside myself with happiness!


I want there to be a ring tone for my phone of the Glee kids singing "Don't Stop Believing." Alas. There is not.


I was looking through some old journal entries and ran across this pic of Jared, which I still loooooove. He looks so sexy and debauched. Slutty and innocent at the same time, I don't even know. Also, how does he look exactly the same as he does now, yet completely different too?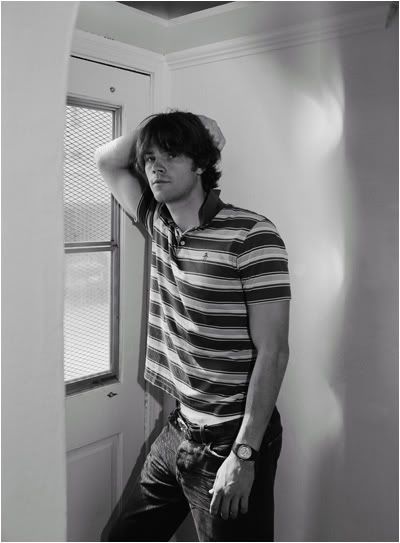 D magazine just did it's annual issue called "Why We Love Dallas" and it basically covers the people, places and ideas that make the city special. Some of it is funny, some is serious. Throughout the article, there are pull quotes from citizens sharing their favorite things.

This is the very first one: I love that my fabulous gay friends can be themselves in Dallas. --Cheryl Garrison

RPS writers, please take note.


http://isiticedcoffeeweather.com/ Who am I to argue? Time for Starbucks!