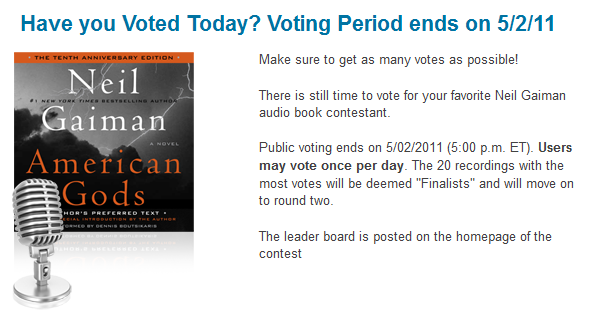 OK, so you guys probably know by now that
juice817
has entered a contest to record the real and official audio book of American Gods by Neil Gaiman. Round One requires online voting, which is where you come in!
The registration process is simple and non-evasive, and you can vote once a day until May 2.
CLICK HERE TO REGISTER AND VOTE FOR JUICE.
She has to make the Top 20 to advance to the next round, so come on folks! It's time to get involved and make it happen.
This is one of our own dreaming a big dream, so I'm pretty invested in fandom doing its part to help her success. Juice's awesome podfics are at
audio_by_juice
and at
the audiofic archive
.
Let's DO THIS y'all! GO VOTE!