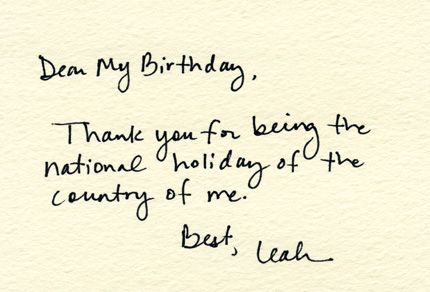 (source)
Today is my 40th birthday! People keep telling me this is a milestone year, so I've been trying to think about what that means to me. Honestly, I haven't found any deep meaning yet. I just know that in these last few years, I've felt more wholly myself than ever before. Life continues to change constantly, and to be an adventure. I can't wait to see what the next 40 years hold for me!
Today is my work birthday party, we're having a nacho bar! Also, I made a tres leche cake. Despite letting it soak for 48 hours, it's still reallllly wet, so we'll see if it's actually edible or not. This also is my last story time. Sad. But, the theme (shockingly) is birthdays and we're going to read all my favorite books. *beams*
Then, tonight, my mom and dad are taking
annkiri
and I out to dinner at my fave Italian place. And then, I will get my big birthday present -- a food processor. I requested it nearly a year ago and am anxious to get it in my hot little hands. I also know I'm getting an ipad because dad called and very sincerely asked if I'd mind waiting until after November 2 when the price drops. He is adorable and I love him so much!
Thanks for continuing to be with me on this ride. My friends and family mean the world to me and I am so grateful to count so many of you in those categories.
♥ ♥ ♥