Yesterday I saw someone mention
svmadelyn
's Valentine Game and I was like...HOLY CRAP. The last four days have been such a blur that I FORGOT about it. I mean, I just can't understand how it had been posted for two days already. Usually I'm right on the spot waiting with baited breathe! Stupid busy life.
ANYWHOO. Thank you to everyone who said such kind things about me. Thank you to everyone who said kind things about anyone. One of my favorite parts is reading over the people I know, and seeing who I don't know that catches my eye. It's fun to read! I love the love. ♥
Last week I had to be up before 6 a.m. three days in a row. I ended up with five hours of overtime for the week, which I know is not that much in reality, but which is extraordinary in our structure. BLERGH. So I just wasn't able to check LJ or do laundry or act like a human being. Perhaps next week will be better. We shall see!
The other day I complained about being too busy to do anything and the always stellar
linda3m
said:
Never say you do not have time to do ANYTHING. You are doing things. That is why you do not have time to do other things. You are a productive person!
That's such incredible perspective. It also happens to be very true. I was sincerely grateful to be reminded. Thank you Linda!
I have been so excited by the resurgence of incredible Sam/Dean fic lately. I loooove how inspired everyone feels and I love getting to read about the boys when they're at some semblance of a happy place. Too bad it has to burn down eventually, right? We are all aware of this, yes? ALAS.
I'd ask you to rec me the best you've read lately, but
recfest
didn't go over so great. ALAS AGAIN.
deirdre_c
still loves me and I'll take that gift any day!
The other day, Arrow's costume and make up people were tweeting and asked viewers to write in to learn how to get Felicity's smoky eye, or to learn about Laurel's lip color, or whatever. I don't care about make up, but I do care about one specific thing on that show: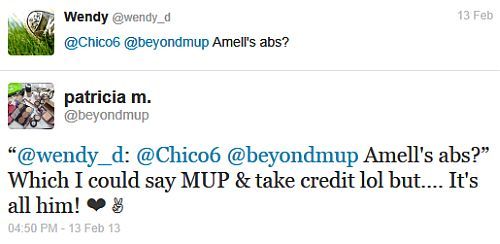 I thought that response was freaking adorable. I love when people who work on shows I love seem to actually have fun doing so. YAY!
I have become addicted to Which Wich. I blame
affectingly
. Luckily the closest store is just a little inconvenient to get to. Otherwise, I'd be eating that yumminess every day!
Today I'm having lunch with my parents and then I'm going to make them an offer on my brother's house. Hopefully it will go smoothly and end with no tears on my part. Fingers crossed, please!
Tell me good, happy things! You things or fandom things or fic things or just...THINGS!
P.S. I do not understand the new spellcheck AT ALL. It just seems to underline almost everything, including black space after the line has ended? And doesn't give replacement suggestions? Grrrr.