Yesterday I went to get Starbucks because I love the cool Valentine cups they had this year and I wanted to do an art project with one. Alas, my SB was OUT of them. AHHH. Sadness.

But then, a child gave me this, which pretty much made my life: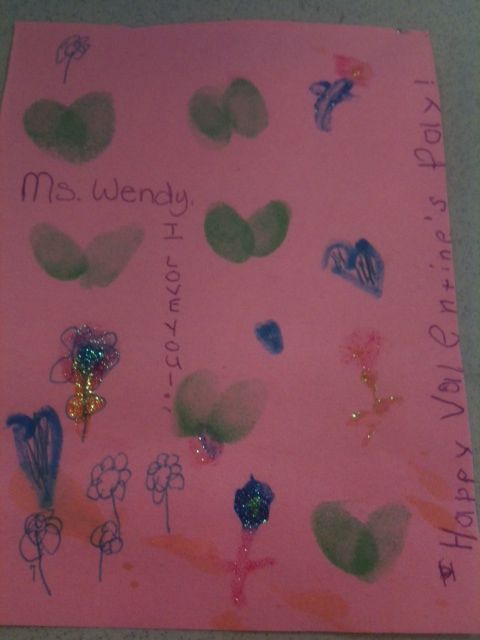 I have the BEST job y'all.

Here is the other awesome thing that happened yesterday...as you know, my parents and I like to watch Jeopardy together. I never watch it alone, but they DVR it and we marathon whenever we see each other. They sometimes watch it on their own too, but they still save it for me as well.

Well, my Dad called last week to let me know that it was college tournament week and that one of the contestants was from North Texas. (My Dad got his PhD from North Texas, and I got both my BA and my MLS from there.) EXCITING! And then, he called back to say she won her episode. We were stoked! I felt so proud and, I don't even know....IT WAS EXCITING. There might have been on-the-phone squealing too, but I'll never say.

Ok, SO THEN. He calls me late last night to inform me that she WON THE ENTIRE SHOW. She beat out allllll the other smartie college kids. The UNT girl! AMAZING. Again, we were so proud. Like, I want to open my front door and holler congrats outside. Honestly, I feel like I actually know this kid, though of course, I do not in fact actually know her at all.

Then, Dad goes on to just casually mention that not only is the Jeopardy college tournament champion from our school...she also is a TAMS student (Texas Academy of Math and Sciences), which is a special program North Texas does where kids finish their junior and senior years of high school, and their freshman and sophomore years of college, at the same time. She won, and she hasn't even technically graduated from high school yet. 0_0 AMAZING.

(Hey
ofenjen...is Gareth practicing his trivia? I could be proud of him too! *grin*)

SO awesome.

Now I am off to shop at a Goodwill sale (for reals) and then I will jet into the library to work until very late tonight. Catch y'all on the flip side!