I've been wanting to do something to re-invigorate the SPN and CWRPS fandoms a bit, so I decided to give away my autographs from Burbank Con.

Here's what I have: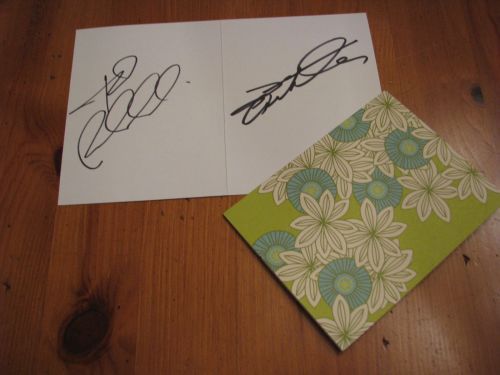 Signed: Jared Padalecki, Jensen Ackles







Signed: Kim Rhodes, Chad Lindberg, Rob Benedict, Guy Norman Bee, Mark Sheppard, Richard Speight, Jr., Rick Worthy, Matt Cohen, and Misha Collins



These are cute note cards, you can see what they look like on the outside too. I'll send them with envelopes and a blank card or two, and probably a TBD surprise. Why not? Fangirls deserve surprises!

Want 'em? Here's how to get em:


Create and post something for the SPN or CWRPS fandom. I am purposely NOT defining what that means. I know it's vague. I want people to be creative and I want everyone to have a chance to do something applicable. If you are unsure if your thing counts or not, it probably counts. I can't even come up with something that doesn't count. Wankbait, maybe. Or, crossposting. Those things probably don't count.


ANYWAY. Drop a link to this post between now and April 15. You can leave multiple comments, if you do multiple things.


Open to anyone, no matter how active you are in fandom, no matter if we are BFFs or have never spoken.


On April 16, I will put all the comments into a randomizer, pick two and PM those folks for their mailing addresses. Then, within a few days, I'll mail you the stuff. Exciting right?

If you have questions, please feel free to comment or PM or email me. If you want ideas of things to create, feel free to PM or email me.

Please help me to spread the word about this!

I AM VERY EXCITED, come on fandom. Let's DO THIS!