They say start as you mean to go on, so here's what I've done today:


Gazed lovingly at this photo of Jared and Jensen being boyfriends playing pool on their joint family vacation: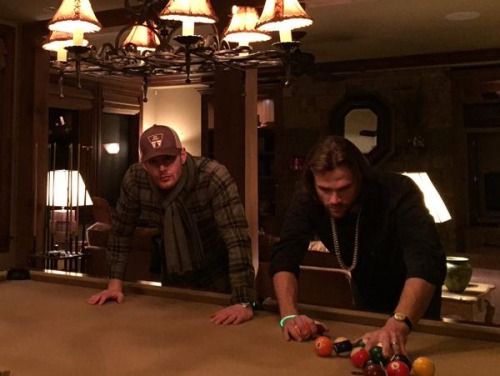 Drank loads of tea from my new moose mug.


Made a contribution to charity. (More on this later.)


Sent notes to some of the people who sent me holiday cards.


Ate delicious Mexican food with several of my favorite people.


Overtipped the waitress.


Listened to my NYE mix on repeat.


Been honest, even though it was hard.


Watched Supernatural.


Snuggled with Max.

Now, if the year continues on like that, it should be pretty amazing, right? Here's to it!

Every man should be born again on the first day of January. Start with a fresh page.
--Henry Ward Beecher

Begin today. Declare out loud to the universe that you are willing to let go of struggle and eager to learn through joy.
--Sarah Ban Breathnach

Some stories don't have a clear beginning, middle and end. Life is about not knowing, having to change, taking the moment and making the best of it, without knowing what's going to happen next.
--Gilda Radner